Below is an article from our Quarterly Newsletter. It seems each day the economic outlook changes a bit, but here is our take as of January 15, 2015. 
GDP Continues to be Strong
Signs of economic growth were abundant in the U.S. as 2014 came to a close even as we saw a continued slowdown overseas. In the midst of uncertainty stemming from falling energy prices, the U.S. provided a bright spot, with an improving jobs picture, increased consumer spending, low inflation, and solid corporate profit growth.
These factors contributed to the exceptionally strong third quarter GDP report, which came in at 5%. This marked the second consecutive quarter where GDP rose in excess of 4.5%; the last time we saw two straight quarters of growth above the 4% level was 2003.
If Q4 GDP numbers come in as expected, we're on track for very respectable results for 2014, with GDP of 2-2.5%. The outlook is even higher, close to 3% for 2015.
 Impact of Falling Oil Prices
Some of the enthusiasm about economic expansion in the U.S. has been tempered by concerns about falling oil prices. The decline in crude oil that started in the summer intensified during the 4th quarter, culminating in a roughly 50% decline in prices for the year.
The drop in crude oil prices has continued into 2015, creating anxiety and uncertainty about its economic impact at home and overseas. Consumers have been upbeat, however, as they benefit from lower gas prices, which have been equated to a tax cut that ultimately boosts income.
According to economist Mark Zandi, if oil prices stay under $60 a barrel this year, it would result in increased income of roughly $100 billion for the consumer. With consumer expenditures representing about 70% of GDP, the benefit is significant. Zandi estimates the net result of an oil price decline will be an additional .4% growth in GDP in 2015.
While time will tell how this plays out in the long run, the boost to sentiment has been immediate; the University of Michigan consumer sentiment index reached its highest reading in nearly eight years in December, in part due to lower energy costs and a rise in household income.
Businesses are also generally optimistic, as shown by improving sales, hiring, and investment spending. Such business activity is another key element in driving further gains in the U.S. economy.
 Why Prices are Falling & Expectations    
As so much attention is now focused on the state of oil prices, it is important to consider why prices have fallen so fast.  A key factor is the shifting supply/demand balance, especially since 2009.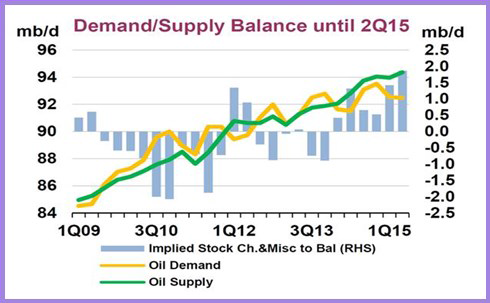 Oil supply has outstripped demand for over a year now, and the glut could continue into 2015, as suggested by the attached chart from the International Energy Agency. Part of the reason for the surplus supply is the U.S. has increased production significantly in recent years while OPEC and other major oil suppliers have not cut their production.
Meanwhile demand has fallen off from China and the Euro Zone in particular, as both regions have suffered sub-par economic growth that reduces their need for oil. Prices have suffered accordingly.
While the recent price swings we have seen are disconcerting, it is worth noting that oil is among the most volatile commodities in terms of price changes. In real (inflation adjusted terms) oil has averaged perhaps $70 to $80 per barrel over the last 30 years (see chart below), and it would not be unreasonable to expect that after a period of volatility it settles back near this level.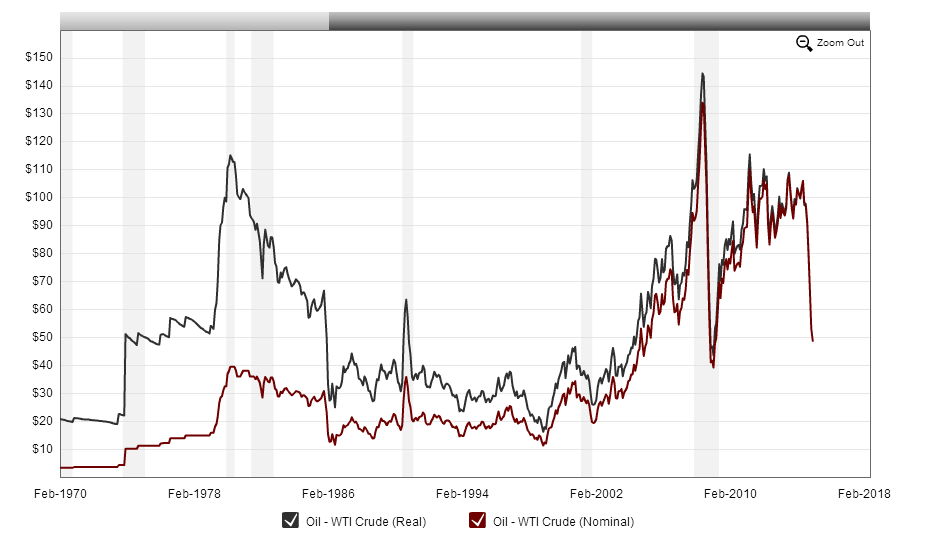 Despite the recent volatility and accompanying negative press, we may see a positive impact from the recent collapse of oil prices. According to Moody's Analytics, lower oil prices, industrializing emerging markets and stronger economic growth may actually lead to greater demand for oil in 2015, ultimately bringing excess supply back down.
(Oil prices1970-2014. Real prices include headline CPI inflation number. Chart from Macrotrends.net)
Themes to Watch in 2015
In addition to the oil story, we will also be paying close attention to the strengthening of the dollar. The dollar rallied 12% in 2014 and recently reached a 9-year high versus a basket of currencies. The dollar has appreciated in part due to the improving U.S. economy, but also due to expectations of an eventual rate hike by the Fed (higher U.S. interest rates boost demand for dollars, inflating the currency).
The downsides of a stronger dollar include more expensive U.S. exports (increasing our trade deficit), lower profits for companies with foreign operations, and a potential deflationary environment similar to what we've seen overseas, notably in Japan. Additionally, currency weakness overseas reflects fundamental problems that threaten overall global growth, something we are also monitoring.
Finally, since interest rates were not increased by the Fed in 2014, the looming action remains an significant risk in 2015. While rates typically get hiked in times of improving economic growth, uncertainty about the timing and magnitude is widespread.  While rising interest rates almost invariably push down bond prices, the impact on stocks is much less predictable.  Historically, rate increases that take place during low interest rate environments are much less likely to have a negative effect on stock prices.
Colleen Harvey, CFA Portfolio Manager   The information contained in this blog is general in nature and is intended for informational purposes only. Furthermore, this information should not be construed as a buy or sell recommendation. All expressed opinions are subject to change without notice. Because the facts and circumstances surrounding each investor's situation differ, you should consult your financial advisor before taking any action based on this information.