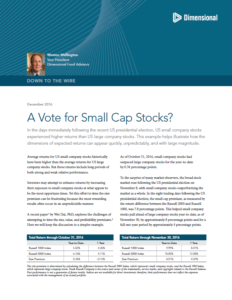 In his recent Down To The Wire article, Weston Wellington, VP of Dimensional Fund Advisors, shares with us an example that "helps illustrate how the dimensions of expected returns can appear quickly, unpredictably, and with large magnitude."
Click Here to read about the performance of US small company stocks in the days immediately following the recent US presidential election.
*The information contained in this blog is general in nature and is intended for informational purposes only. Furthermore, this information should not be construed as a buy or sell recommendation. All expressed opinions are subject to change without notice. Because the facts and circumstances surrounding each investor's situation differ, you should consult your financial advisor before taking any action based on this information.