Hello to all CCM clients, family, and friends,
We hope you are enjoying your spring so far! As some of you may know, CCM has many wonderful community partners that we support. Two of those partners, Friendship Bridge and Girl Rising, are hosting two free events in May that CCM is sponsoring, and we'd love for you to join us!
Investing in Women and Girls for a Better Future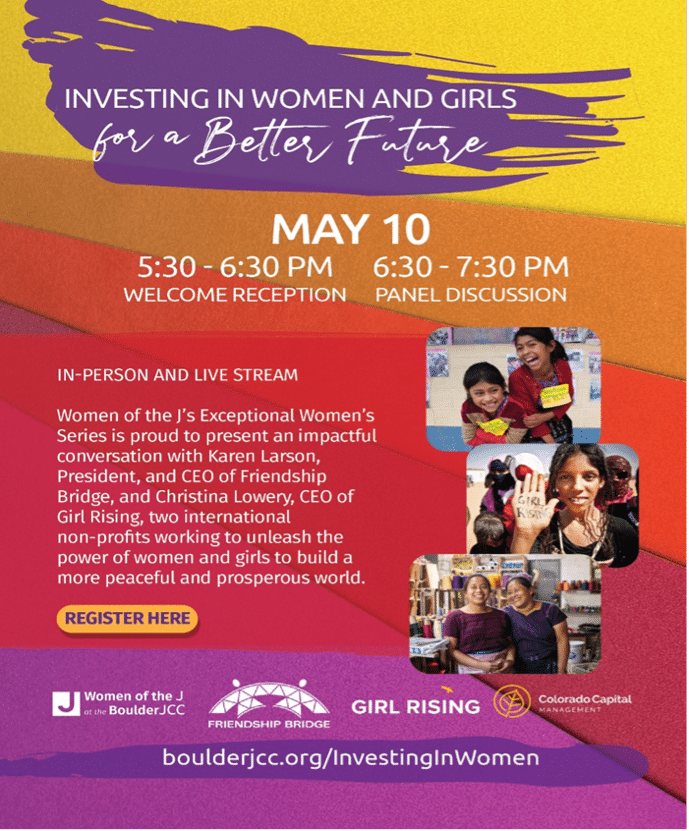 The first event will feature Karen Larson, President & CEO of Friendship Bridge, and Christina Lowery, the CEO of Girl Rising, as they share stories from the field of how women and girls are leading transformative change in their communities. Join us for a lively and global discussion on May 10th about how investing in girls and women is critical if we are to build a better future for the next generation. If you can't make it in-person, this program will also be available to live stream.
If you would like to attend in-person or register for the live stream, register today.
Future Rising: How to Remake the World
The second event we are sponsoring will feature Future Rising, Girl Rising's new program to unleash the power of educating girls to address climate change. This event is on May 11th, and starts with a tour of the JCC's beautiful farm and concludes with the inspiring voice of Future Rising Fellow, Tia Kennedy. To RSVP for this event, use the button below. You can also RSVP to kenzietierney@gmail.com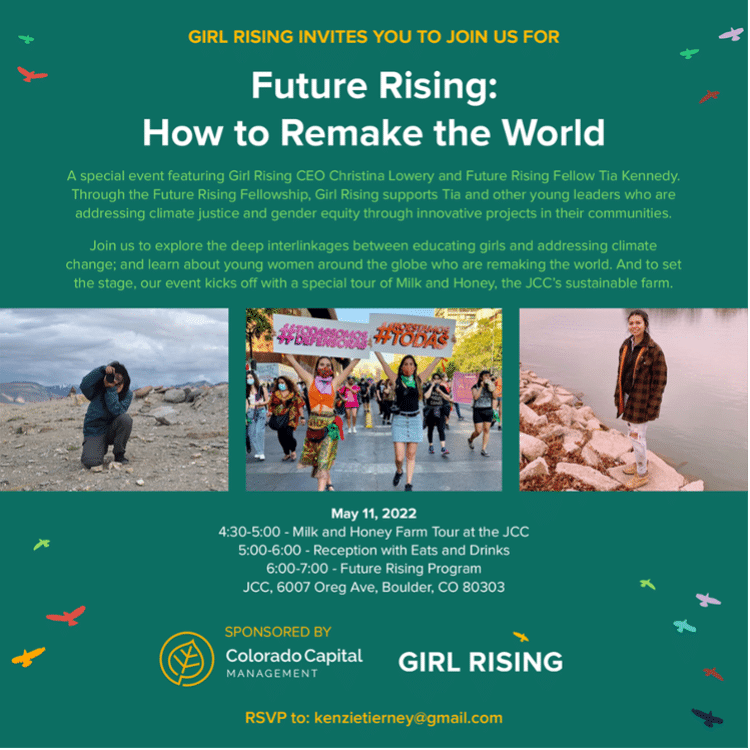 Click here if you'd like to learn more about Friendship Bridge, and click here if you'd like to learn more about Girl Rising.
CCM is thrilled to be sponsoring these events which are a great way to learn more about our community partners, and to hear some meaningful discussions. Please contact us if you have any questions about either event. We hope to see you there!
The CCM Team.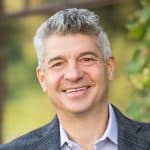 Lee has more than 15 years of experience in financial planning. He holds a bachelor's degree in political science from the University of Colorado and a master's degree in international affairs from Columbia University. He also holds the Wealth Management Specialist (WSM) certification.