Did you know that educating girls can have a huge impact on solving climate change?  Neither did we, until we were introduced to the data in a powerful video put together by Girl Rising. It explains that when women have a stake in planning our futures, they create ambitious climate goals and responsible environmental policy. 
Girl Rising, a global non-profit with strong roots in Boulder County, uses the power of storytelling to change the way the world values girls and their education. They create content, including educational resources, award-winning films, books, television, and radio shows to highlight the challenges girls face around the world. Girl Rising also helps develop curriculum content for educators, schools, and community organizations. They seek to undo harmful gender norms that often plague communities and governments.
Earlier this month, Colorado Capital Management was proud to sponsor a series of events in support of this remarkable organization. The first event, brought together the dynamic women leaders of Girl Rising and Friendship Bridge for a lively discussion about unleashing the power of women and girls.
Friendship Bridge works directly with tens of thousands of mostly indigenous women in Guatemala, which ranks the lowest on gender equality among all the countries of Latin America. Friendship Bridge seeks to eliminate poverty by creating gainful opportunities through microlending, non-formal education, and access to culturally- appropriate healthcare. Friendship Bridge calls their unique offering "Microcredit Plus" in lending small amounts of money and providing training and education to help these women build small businesses and better lives. All the Guatemalans they support are women and are mostly indigenous Mayans who live in rural communities with some of the highest levels of poverty in the world.   
Hosted by Women of the J, this first event took place at the Boulder JCC and featured a moderated discussion between Karen Larson, the CEO of Friendship Bridge, and Christina Lowrey, the CEO of Girl Rising. The discussion was led by Lorena Garcia of the Colorado Statewide Parent Coalition. We learned that over the last 50 years there has been an enormous amount of progress in closing the gender equity gap but in the last two years, that progress has regressed because of the pandemic. Globally, 130 million school aged girls currently do not have access to education, and according to Malala Fund's research because of Covid-19, it's estimated that 20 million girls will never return to school. Ms. Lowery presented additional information including that: schooling can increase a woman's earnings by 20%, and 12 years of education for every girl would result in a 64% decrease in child marriage, a 59% fall in early births, a 49% drop in child deaths. In addition, deaths due to disaster could be reduced by 60% by 2050 if 70% of all 20–39-year-old women completed lower-secondary school.
The next evening focused on how important educating girls will be in solving the climate change crisis. Girl Rising launched a new campaign called "Future Rising" focused on addressing the drivers of climate change and helping girls realize the value they bring in solving these issues. Food deserts and water scarcity are the two biggest climate issues these girls face. We learned that 80% of people displaced by climate disasters are women. As resources become sparser, girls' education is often the first thing to go. Girl Rising found that with access to quality education, empowering girls in their communities, and giving family planning guidance, we will be able to avoid 85 gigatons of CO2 emissions by 2050. It is remarkable the contribution that educating girls can make to addressing so many of the world's most pressing issues.
We were fortunate to hear directly from two of the Girl Rising fellows about how they are making a difference in their communities. Tia Kennedy is looking at making safe drinking water more accessible in First Nations communities across Canada. Many First Nations citizens have lived with contaminated and unsafe drinking waters since at least the mid-90s. We were also joined by Lauren Ritchie from the Bahamas who was about to graduate from Columbia University. She is working on many projects, including highlighting the intersection of racial and environmental injustice in New York City through the lens of black women. It was fascinating to hear how these fellows are using the tools they have learned in the program to make a difference in their communities and to address climate change. They are clearly on a path to be global changemakers.
The final evening brought together various leaders and supporters of Girl Rising at the home of Lee and Beth Strongwater. We heard more from Christina, Tia, and Lauren about their incredible work. Lee, who is on the board of Girl Rising, was instrumental in helping pull together and host this entire series of events. And Colorado Capital Management, which is actively engaged in supporting the work of both Girl Rising and Friendship Bridge, was proud to be a sponsor. 
As we wrapped up these events, we were motivated to consider what else we could do to make a positive impact on the lives of women and girls. In addition to supporting these great organizations, we are also seeking to expand our impact investment offering to include more gender-lens focused investments. Inclusivity, diversity, and gender equity are popular themes among those who invest their assets with an impact focus. 
Values Aligned Investing
Here at Colorado Capital, we can help in making sure your investments are aligned with your values in both public and private markets. One way we can do this in the public markets involves looking at the percentage of a company's management and board of directors that are women. Another metric considers the broader diversity scores of companies and how they measure up in terms of having a culture of inclusion. 
Gender Lens Investing
We also help clients make high-impact gender lens investments in the private equity and private debt markets.
Private debt funds can provide financing to low-income, underrepresented communities and women-led businesses while generating regular interest payments to their investors and diversification benefits from being relatively uncorrelated with the broader market.
Private equity funds that are led by women and/or invest in women-led businesses are an important and powerful tool for providing venture capital funding to women-led businesses. They are helping to address the huge gender gap in venture funding where women still only receive 2.7% of the total funding dollars.
According to a study done by Fidelity, two-thirds of clients say social impact is key to their investing decisions. If you are one of these investors, please let us know so we can continue to create a future we can believe in.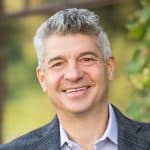 An entrepreneur and world traveler, Colorado Capital Management vice president and co-owner Lee Strongwater brings a global perspective to investments and life planning.